QA Madness Named a Top Software Testing Company by Clutch
Reading Time:
2
minutes
QA Madness is excited to announce that we have been ranked by Clutch as one of the top developers in the world, with a focus on companies that specialize in software testing.
Clutch is a B2B ratings and reviews site based in Washington. They use market research and reviews of a company's work to rank businesses in categories according to their service focus and location. We are ranked by them as one of the leading software testing companies.

We are an independent software testing company that was created by skilled pros who are in love with their work and want to improve the quality not only of the software they test but the quality of the testing services in general. We're experts in eCommerce, web, mobile application, and game testing. Our QA engineers use the most relevant and effective tools that help to ensure the quality of any software product.
One of the most important factors that Clutch takes into consideration is the in-depth feedback it collects from the past clients and existing partners. This means that a high ranking from Clutch is due, in large part, to receiving positive reviews.
Since Clutch started collecting them in 2016, they have received 22 reviews from our clients, with an average rating of 4.8 out of 5 stars. Clutch publishes transcripts all of the collected reviews.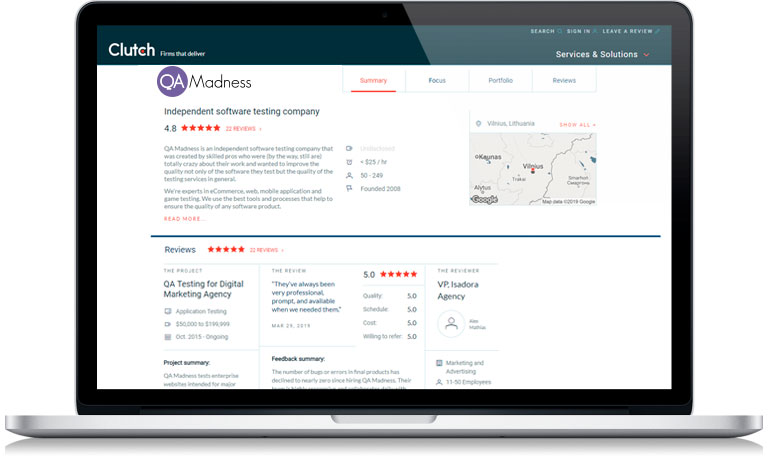 Clutch also has two sister sites, The Manifest and Visual Objects.
The Manifest is designed to allow potential clients to quickly browse a list of business sorted by service focus and location. You can compare prices, look at short bios, and see some select past clients. We are included on The Manifest as a top software testing service provider. QA Madness is featured for QA and functional testing that our team performed for a Magento maintenance company.
We are honored to receive this recognition, and we want to thank all of our wonderful clients, we could never have gotten this far without you. We are excited to keep improving and to continue providing exemplary software testing services 🙂