Small Business Migration Alternative: Shopware vs. Magento 2
Reading Time:
4
minutes
The dynamic world of eCommerce is full of the events shaping the industry today and the future direction of its growth. Adobe acquisition of Magento triggered several subjects for debate. One of the questions is an appropriate choice of a platform to migrate. Some owners of small and medium stores consider migrating to the platforms concentrated on the same business size and anticipate Magento to focus merely on enterprise edition. Shopware is one among the industry competitors becoming a popular option to migrate. We will discuss the factors to encounter when choosing between Magento 2 and Shopware.
Type of Business
Even though Magento is flexible in providing small, mid-size, and enterprise business solutions, Adobe might change the direction of Magento services. The point is that Adobe is an enterprise-driven business, so chances are Magento goes the same path. This is the reason why some of the newly introduced features and tech support might not overlap with small and medium business solutions.
With the changes of Magento business policy, non-enterprise store owners consider Shopware as the possible opportunity to migrate and get the business supported with the feature updates. Along with Shopify, Shopware is a growing platform, especially in Germany, Austria, Liechtenstein. It already maintains the websites for L`Oreal, Grohe, Escada, M&Ms Germany, Mercedes Benz Museum.
Similartech provides with the business correspondence data and analyses the most popular industries occupied by both platforms. It is hard to compare Shopware market share with Magento, yet shopping, e-commerce, home & gardening are the core areas Shopware covers. By contrast, Magento remains a leading platform and supports a significant amount of websites in every industry.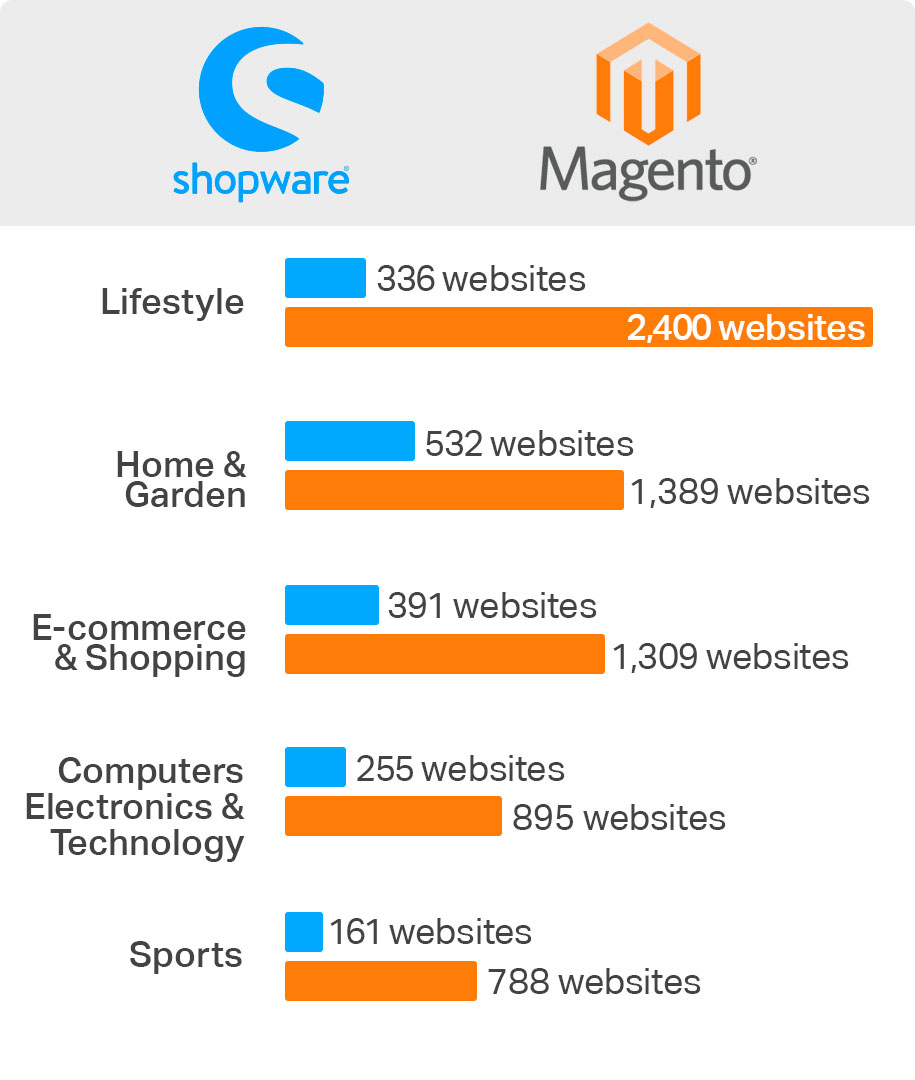 B2B vs. B2C
Although both models are well-equipped to develop a scalable, advanced web store, each has a focus on a specific business model.
Shopware tells a product story, concentrates on positive consumer experience, and thus is fairly acknowledged as B2C-oriented. By contrast, Magento is a leader in B2B commerce, serving to nearly 40 merchants. The features introduced offer easy inventory management for business clients, opening scheduled deliveries, and a convenient inventory tracking system.
Anyway, business model standard goes far beyond B2B & B2C, we believe each platform would quickly adapt to the emerging needs of e-commerce.
Cost Estimate
This is especially important for the mid- & small-size business since the acquisition by Adobe might increase the fees for utilizing Magento platform. To clarify: this is a natural process for the companies that transform into large corporations. That is why the task here is to make sure the costs for website maintenance fit the budget.
We`ve collected the approximate pricing plans both platforms offer. However, be ready that the costs might change per different factors, so always discuss the fees with the vendor of your choice.
Here is the pricing plan Shopware offers at Financeonline.com:

Magento 2 Commerce and Enterprise Edition price depends on gross sales revenue and the type of hosting you prefer. Therefore, financial consulting before launching the website on Magento 2 would be a good idea. Magento Community Edition (CE) is free to download and use, but the table below depicts yearly costs for the other two editions.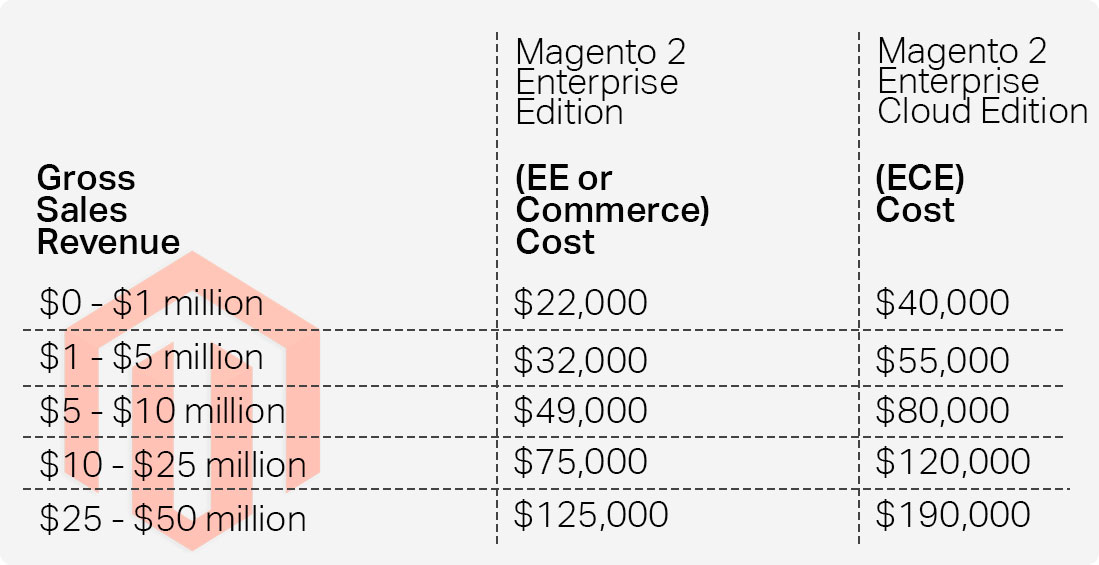 Usability
The first thing to consider here: both platforms are relatively easy in daily usage. Yet there are some differences in approaches each platform has chosen to structure the interface.
The users at different forums and review platforms (e.g. Quora) value Shopware for its simplicity for both customers and business owners. Store owners are lucky to work with the intuitive administrative interface, while the backend is compatible with any browser and operating system. Anyway, Shopware installation and further use are said to be quicker, with no coding required. Drag-and-drop and double-click features accelerate interface management, while parallel opening of multiple windows gives access to the data overview. However, you may need professional assistance in case you choose Shopware for enterprise store.
The first version of Magento was a bit complicated with the challenging (and often tricky for non-tech store owners) administration. Luckily, Magento 2 is much more flexible with the upgraded intuitive Admin Panel. Those who migrated to M2 are more satisfied with the interface management and fast data search in Admin Panel, which allows to easily add new content to the store. But Magento setup and customization might still impose challenges for those unfamiliar with web-development. Besides, the advanced features, page-layout management also require extensive coding, which means you might need a team of programmers to build a store on Magento 2.
Magento vs. Shopware Testing
We never stop advising to test the website built on an open-source platform. Our latest article on Magento checkout QA for mobile apps explains that custom features usually undergo profound testing, while the default version of M2 is defect-free.
Ok, is there a specific approach when it comes to testing Shopware-based website?
No. For sure, the platforms differ in complexity and feature implementation, but the e-commerce QA strategy remains almost the same for both platforms with reference to project specifics.
Final Word
Adobe is likely to change the direction of Magento to the enterprise-focused service delivery. This is the reason why Shopware seems to be a platform gaining traction among the middle and small store owners as a convenient alternative. There is no clear decision option, though. When choosing a platform for migration, try to consider budget, business model focus, user interface features, store industry and off you go! 🙂